Live from New York... It's Saturday Night!
Over the last month or so, I've become fascinated by the music and story of Taylor Swift. So when it was announced recently that she'd be pulling double-duty as both the host and musical guest on Saturday Night Live, I determined that this was an event I had to attend. I've always loved SNL, even though I haven't watched the show regularly in probably fifteen years. And I'm something of a process junkie, so I've always been curious to see how the whole thing was done.
A little research proved that this was going to be a difficult ticket to get. SNL tickets aren't for sale--at the start of the season, they raffle off the available seats among those people who've written in requesting to attend a taping. But I figured I had an advantage, working at Marvel. I had just overseen the Spider-Man story that SNL cast-members Bill Hader and Seth Myers had written, so I asked its direct editor, Steve Wacker, to do a reach-out for me. Seth couldn't have been nicer about it, but unfortunately, it was no-go--ever since the announcement, this was a hot show, and he'd already been tapped out on his allotment of seats.
Undeterred, I started checking in with friends and associates, anybody I thought might have an inside track on being able to hook me up. But I was getting nowhere fast. Even standby tickets (which would only give you a possible chance of entry should somebody with a confirmed ticket not arrive in time) were being scalped for enormous sums--and that was simply for the opportunity to play roulette and hope that you might luck out as a winner. At this point, for me, it was becoming less about attending the show, and more about just making the whole thing happen; a point of pride.
In the end, it was the power of Twitter that came through for me. After another near-miss, I tweeted my frustration--and then things started to happen. People I would never have thought to tap came out of the woodwork, offering to help. The fact that my Twitter account is also connected to my Facebook status, and updates it, increased the exposure, notifying even readers who weren't on Twitter as to my situation. And people came through big time. I got a call from art agent Spencer Beck (
www.theartistschoice.com
) who had connections to one of the writers on the show, and volunteered to help. I also quickly heard from Entourage and Moon Knight writer Mike Benson (Follow @mpbenson on Twitter), who reached out to a number of high-placed people in and around NBC on my behalf. And there were others, most notably Jef Price of
www.necessarycool.com
, who while in the end weren't able to materialize tickets nonetheless went above and beyond in their attempts to come through for me.
As it happened, I wound up with not just two tickets, for myself and wife Jes, but four, so we invited my brother Joe (
www.mightyjoecastro.com
) and his wife Jen to attend the taping as well. This was an extremely last-minute invitation, worked out around 3:00pm that day, and it required Joe and Jen to race up to Manhattan from their home in Philadelphia. But that's very much in keeping with their adventurous lifestyle, so they were game.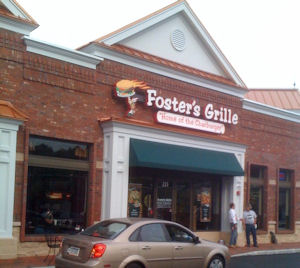 We had drafted in AMAZING SPIDER-MAN writer Dan Slott to stay with the kids while we went into Manhattan. After picking Dan up at the train station and before heading out ourselves, we started the evening with a family dinner at Foster's Grille in Nesconset. Foster's serves a nice variety of simple American cuisine, in a slightly sports bar atmosphere. I had their daily special, the delicious Chicken Philly Cheesesteak.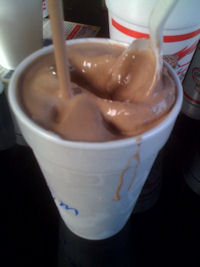 But the real reason to go to Foster's is their amazing milkshakes, the best in the land. Thick enough that a straw will stand unaided in their center, but still liquid enough that you can drink them through a straw (although Foster's also provides a spoon, which works too.) The taste is outstanding.
Jes and I got into Manhattan at around 8:00, and made our way to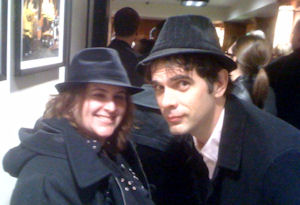 30 Rock. Joe and Jen had indicated that they figured they'd make it to the city around 9:00, so we knew we needed to link up with them. There was also an additional wrinkle: since we'd been added to the guest lists, we'd have to pick up the actual tickets at the venue, and there were two separate lines and two separate lists we'd need to get checked off on--all of the tickets were in my name. As it turned out, we got their early--the dress rehersal hadn't let out yet--so we got a coffee from the excellent Magnolia bakery up the block (still too stuffed from dinner and homemade cookies to attempt an actual signature pastry) and sat out at the fountain park across 6th Avenue, killing time. Shortly thereafter, Joe and Jen arrived, and we located the correct lines at 30 Rock. I gave Joe all of the pertinent information to pick up one set of tickets, and he and Jen went off to their line while Jes and I waited in the other.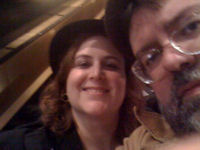 That's when the stress began. I dislike uncertainty, so not having anything that was actually tangible in the way of tickets or even confirmations was wearing on me a little bit, even though I knew it was ridiculous to feel this way; the show deals with these situations every week. Jes and I got confirmed on the guest list straight away, and brought through security and up into the studio without any hassle. But Joe and Jen were still waiting, and beyond a certain point there wasn't any contact with them, as I was required to turn my cell phone off when going in. The NBC crew was very strict about there being no photography and no cell phone use. We waited what felt like the longest thirty minutes of all time, imagining all sorts of difficulties that Joe and Jen could have run into downstairs, before they finally appeared and got their seats. Whew!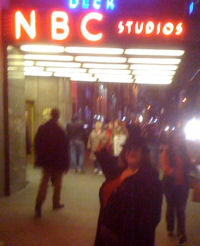 My first impression was that I was surprised at how small Studio 8H is, and how small the studio audience is. The room only held 256 spectators (which helps to explain why tickets would be so hard to come by.) And while the space seems huge and voluminous on television, it's really set up boxcar style, with a series of four or five stage-sets lined up next to one another. Set flats were everywhere, and a small army of stagehands were working to move everything into position. Our seats were great, practically couldn't have been better, front row in the stands (the few floor seats, which are the ones most typically seen on camera, appear to be reserved for close friends and family.) Depending on the sketch, the performers were at times no more than three yards away--the girl in the seat next to me exchanged a pantomime with Swift at one point. As a result, there is an extraordinary temptation to reach out or say something or toss something down towards the performers, but everyone was on their best behavior.
Watching the show in the theater while it's being broadcast is a very different experience from watching it at home. For one thing, there's an energy to a live performance; you're there, you're part of the event, and you want to laugh and have a good time. Also, you're not always certain where to look. There are monitors set up all through the space so that everyone can see the feed as it's going out to broadcast (so the audience can see the filmed inserts, as well as anything going on the view of which might be blocked from their particular vantage point.) so I found my attention constantly shifting back and forth between what was going on in front of me on the soundstage and what was transpiring on the monitors--even when it was the same thing. There were also certain bits of business that worked better when you could see the whole picture, rather than the cropped one-shots that were going out over the air. But the main difference is that it all seems more intimate, less like big-time broadcast television and more like a bunch of likeable oddballs goofing around for ninety minutes--unpolished and silly and fun. The time flew by like lightning.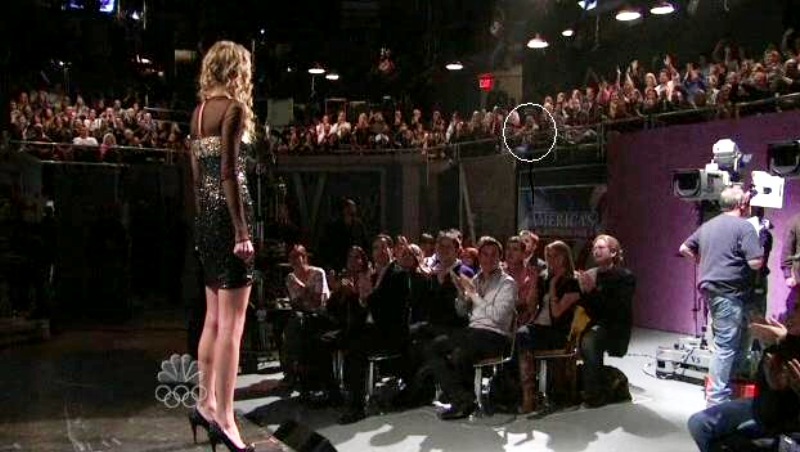 Taylor Swift seemed to be in excellent spirits, and she certainly put the work in, appearing in virtually every sketch (save Weekend Update and the cold opening) and performing two numbers, a somewhat weaker pairing than the two she'd done on her previous SNL appearance. "You Belong With Me" isn't a great "live" song, as it turns out, and lacked the studio production polish to really make it shine. "Untouchable", on the other hand, I thought played better live--it wasn't a tune I was especially enamored of when it was released, but seeing it live gave me a new appreciation for it. (One bit of stage drama that didn't make it to air was the fact that the cast member who was supposed to introduce Swift's second performance couldn't be located, necessitating a mad scramble for a last-minute substitute as the final five seconds counted down. As it turned out, the cast member was in the writer's room chatting with Marvel staffer and comedy maven Jesse Falcon--small world.) The other thing that came across about Swift seeing her live was that she has no body mass whatsoever. She is scary thin.
It was amazing to witness the frenetic activity as sets were erected and struck throughout the closely-confined space. I would never have realized it at home, but the Cold Opening set was positioned directly in front of the main stage where the SNL band (who were very good throughout the night) were situated. In the time it took for the credits to roll after "Live from New York..." had been spoken, that entire set had been struck and squared away, so that Swift could make her appearance. At one point, Swift tripped while making her way off stage after her monologue, and her handler virtually carried her bodily to where she next had to be.  
After the show ended, we had a two hour wait for the next train back to Long Island. So after parting ways with Joe and Jen, we walked back to 30 Rock to hang around with the fans and paparazzi waiting for the cast to make their way out of the building. I shot a few bad photos with my inadequate iPhone camera before we called it a night and made our way home.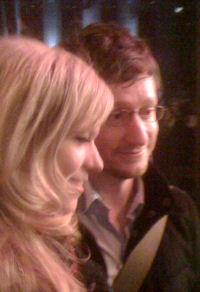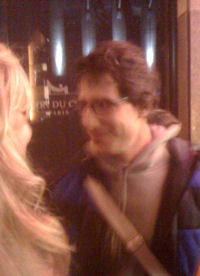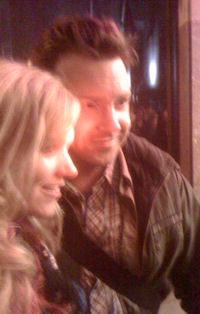 (Cast members with unknown fan.)
Tom B