Quick Bread
Quick breads are usually any lightly sweetened non-yeast bread usually with a fruit or vegetable component. Popular quick breads are banana bread, carrot cake, zucchini bread and pumpkin bread. This recipe makes a very versatile quick bread based on the recipe for Caramel Frosted Banana Bread found at alldaylongidreamaboutfood.com. She has excellent stuff. Check her out.
I've made a few modifications to the recipe here to make it more versatile and easier to work with.
Wet Ingredients
1 Cup
Water
¾ Cup
Almond Milk
60g
Chia Seed, ground (about 1/2 Cup of ground seed weighing is more accurate)
22 drops
Liquid Sucralose
3 Lg
Eggs
¼ Cup
Butter, melted
Dry Ingredients
3 Cups
Almond Flour
½ Cup
Granulated Erythritol (Generic, Swerve, Truvia whatever)
1/3 Cup
Coconut Flour
1/3 Cup
Whey Powder
1 Tbsp
Baking Powder
½ tsp
Salt
Preheat oven to 325°F.
Line a bread pan across the bottom and long sides with parchment paper to make a "sling". Butter the short ends of the pan.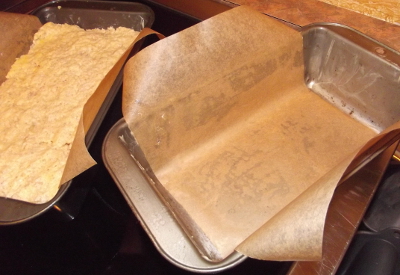 Combine water, almond milk, chia seed and liquid sucralose together. Let this sit for about ten minutes.
Meanwhile, mix all dry ingredients together. Set aside.
Ok, now the fun part. Picking the flavor of the bread. This is where you get to have fun with flavorings and/or spices. I've listed some variations listed below to get you started. My general rule of thumb is that if you're using a spice that's dry, like cinnamon or poppy seeds add it to the dry ingredients. If it's liquid like vanilla extract or lemon juice add it to the wet ones. If you want to add a little vegetation like carrots or zucchini that works too, just use grated veges and squeeze out as much liquid as possible before mixing it into the wet ingredients.
Beat eggs with melted butter. Stir into wet ingredients. It should be about the consistency of mashed banana. Then stir in the dry ingredients until thoroughly combined.
Spread the dough evenly into the bread pan. Smooth down the top. You can sprinkle the top with a little of the Erythritol if desired. Bake for 70-75 minutes or until a toothpick inserted into the center comes out clean..
Let cool for fifteen minutes before trying to depan. The sling makes it easy. I recommend cutting it up into slices and then freezing them individually until ready to use. If I don't I tend to eat the whole loaf in just a day or two.
These toast really well.
Variations
Cinnamon
1 Tbsp
Cinnamon
½ tsp
Nutmeg
¼ tsp
Cloves
Coffee
2 Tbsp
Instant Coffee Powder (add to the wet ingredients)
Lemon Poppy Seed
2 Tbsp
Lemon Juice
1 Tbsp
Poppy Seeds
Banana
1 tsp
Banana Flavoring
½ tsp
Vanilla Extract
Cardamom (Christmas Bread)
1 Tbsp
Cardamom
1 tsp
Lemon Extract
Pumpkin
1 tsp
Pumpkin Pie Spice
½ Cup
Pumpkin puree
Gingerbread
1 tsp
Dried Ginger, ground
2 Tbsp
Fresh Ginger, grated
1 Tbsp
Cinnamon
½ tsp
Nutmeg
¼ tsp
Cloves
You can use either black or white chia seeds. The black will give you a more speckled banana bread look.
A little higher in carbs than I usually like but it's good occasionally. The trick is limiting yourself to only one slice a day. I find it best to freeze the slices flat on a baking sheet lined with parchment and then bag them up individually and keep them in the freezer. They toast beautifully directly out of the freezer, no need to thaw.
Serving size: 1 Slice (16 total for recipe)
Calories: 192
Carbs: 8 (4 net)
Fat: 16
Protein: 7